If you're curious how fix and flippers evaluate properties, this video is for you.
I'm going to walk you through a house just outside of Seattle. I've never actually seen this property in real life—only in photos. A wholesaler brought it to our company. So I'm going to take you inside and show you how I analyze a property when I first walk through it.
We're going to be looking for huge red flags, construction issues, floor plan design, so we can put together a nice package on a property so we don't miss anything. Let's check it out.
Tips for Performing a Thorough Walk-Through
It's really, really important to do a thorough walk-through when you're at the property the first time. Then later, when you go buy a house or buy a project, you won't encounter huge issues or have things pop up that you weren't anticipating.
Here are a few tips:
Take as many photos as possible. Act like you're never coming back to the property again. Use your smartphone; we all carry one with us. Put the photos in Dropbox or Google Drive. Label the folder with the property's address and date it.
Understand construction costs. Note any and all red flags, and consult professionals about things you may not fully understand. Floor plan issues, exterior issues, sewer issues, so on—scan up and down everything and note anything that's in disarray. Again, be sure to document everything with photos. Take pictures both up close and far away.
Do a thorough walk-through. Take your time when you walk through a property. Act like you're never going to walk this house ever again. How thorough can you be? Don't walk through it with a seller, if possible. They can be distracting. Do the process the same way every single time, and that way you're never going to miss anything.

Walk the entire exterior first. Examine the condition of the siding, roof, gutters, sewer line, electrical, foundation, and windows.
Walk the interior next. Start at the front of the house. Is it updated or not? Does it smell? Can you "taste money"? And most importantly, pay attention to the floor plan. If it isn't functional, can you open up walls? Is it going to feel right to a buyer?

Create a spreadsheet. This is a great method to analyze the rehab room by room.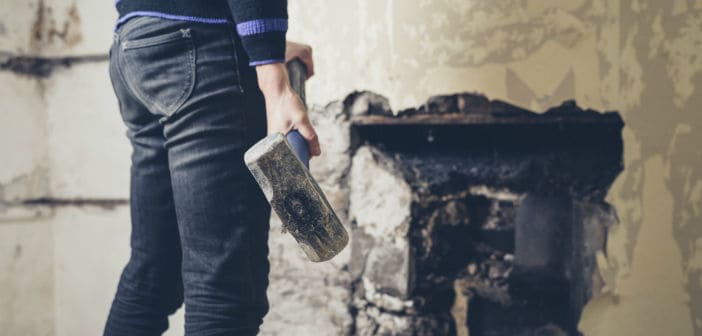 Related: Flipping Houses: The Ultimate Step by Step Guide
Initial Analysis of This Property
This home happens to be about 100 years old. As it stands, it's a 4-bedroom/1-bathroom, which isn't exactly an attractive floor plan in terms of functionality. It also lacks a master bedroom. To remedy these issues, we'd like to create a master and add a full or 3/4 bath.
We would also want to open up the living room to the kitchen and make the one existing bathroom bigger to bring it up to today's standards. Right now there's only about two feet of space between the bath tub and the sink. (I think people might've just been a lot smaller 100 years ago.)
The kitchen needs gutted and new stairs are needed to get to the second level. There is also a chimney right in the middle of the home that would have to be removed.
In addition, the electrical and ducting throughout the property aren't up-to-date (and the plumbing probably isn't either). It's also not a true four-bedroom. And the kicker? The entire home smells like cat urine!
The wholesaler who brought us this property was hoping to sell it to us for $181,000. They told us the remodel would cost around $60,000, and the home could probably sell for around $300,000.
But many of these fixes are not easy; they don't have the numbers right. I don't see this reno costing anywhere around $60K—it's going to be much more. Off the top of my head, I'm spending a hundred grand if I want to make this a true "legal" 3-bedroom/2-bathroom house. This includes fixing the interior and considering the siding, wood-framed windows, roof, and so on.
I can already say we're not going to buy this property. Maybe we'd reconsider if we could buy it from the wholesaler at a much lower cost, but this isn't a good deal.
If you want to learn more about analyzing rehabs, I highly recommend a book by J. Scott that changed my life years ago. It's called The Book on Estimating Rehab Costs, and BiggerPockets recently released a brand new edition.

Do you have any other questions about why we're likely to pass on this deal? Or any questions about how to evaluate a property during an initial walk-through? 
Leave a comment below.